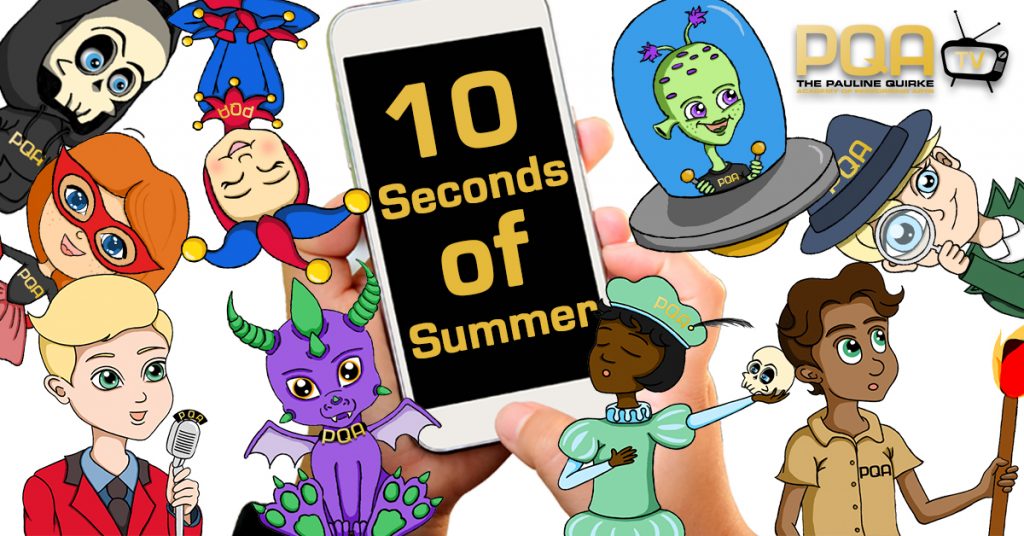 This summer PQATV challenged students to make a 10 second vertical film over the summer holiday featuring one of the funky PQATV genre characters from our YouTube channel.
After much deliberation we are excited to announce the winning film and six runner up's, see who won and watch their film below!
Overall Winner "Into The Darkness" by Martha Patrick from PQA Ipswich
Runner Up "Plastic Dragon" by Beth Sangster from PQA Edinburgh
Runner Up "Do Not Touch" by Sophia Callanan from PQA Sheffield
Runner Up "Young Again" by Amelia Stepney from PQA Eastleigh
Runner Up "Fine Arts" by Alfred Troth from PQA Leicester
Runner Up "Lookalike" by Corneille Williams from PQA Thanet
Runner Up "The Mission" by Vanille Henry from PQA Cambridge
The winning film and runners-up will be screened at either the North and South PQA Film Festival and broadcast on PQATV.com. Martha, the overall winning filmmaker will receive a DSLR camera and accessories worth £500!
It was incredibly difficult to narrow down over 100 entries to just one winner and six runner ups and we felt the below films deserved a special mention for being highly commended by our judges.
Congratulations to our Highly Commended films:
"First Contact" by Ayva Carrington from PQA Sheffield
"Missing" by Cormac Moroney-Lewis from PQA Watford
"10 Seconds of London" by Callum & Lilah Hewett from PQA Hemel Hempstead
"How Dairy You?" by Olivia Warrington from PQA Bolton
"Ninety9" by Tilly Carr from PQA Reading
"Alien Juice" by Lola Purnell & Amelia Parsons from PQA Bradley Stoke
"The Good Deed Jester" by Ronnie Goldsmith from PQA Doncaster
"2000 Lives" by Addison Aston from PQA Tunbridge Wells
"Aint No Criminal" by Josh Thompson from PQA Taunton
"Chill Out" by Ben Murdock from PQA Bristol
"Fairy Life" by Ellie Godfrey from PQA Banbury
"Forest Frights" by Connor Totten from PQA Ipswich
"Just For A Lick" by Lucy Kampta from PQA Dartford
"Lunchtime" by Logan Taylor from PQA High Wycombe
'TidyTina" by Abbie Latymer from PQA Thanet
"How to Make a 10 Second Film" by Henry Atkinson from PQA Welwyn Garden City
"Step Out Of The Dark" by Felicity and Isabelle Downton from PQA Ipswich
You can watch all these highly commended 10 second films over on our YouTube channel here
---