Make a short film over the summer holidays and you could win a £200 voucher and see your film on the big screen at the PQA Film Festival!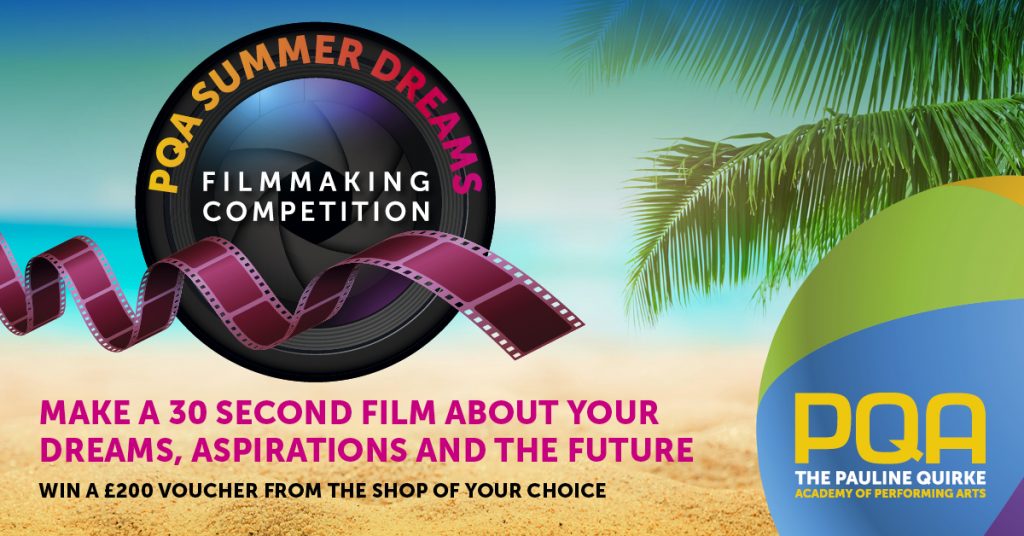 This summer we are challenging you to create a short film with the theme 'Summer Dreams', the film should be about your dreams, aspirations and the future and must feature three of our summer items from the list further down the page.
To make your film choose any three of the summer items below. How you feature them and for how long is totally up to you! So get filmmaking and send us your creative masterpieces!
Summer Items:
Sun Hat
Sunglasses
Flip Flops
Watermelon
Snorkel or Swimming Goggles
Inflatable Toy
Bucket & Spade
Toy Boat
Ice Cream Cone
Beach Ball
Deck Chair
Coconut
Competition Rules
1. Films must be no more than 30 seconds long
2. Films must include three summer items from the list above
3. You must give your film a title
4. Films can be made on any equipment available to you, such as a phone, tablet or camera.
5. Films can be live action or animation, films can be any genre
6. Films should have a story, with a beginning, middle and end, be super creative!
7. The deadline for entry is Sunday 4th September 2022
8. Please ask a parent or guardian to email your film to filmandtv@pqacademy.com (using any file transfer service) and include your name, age and the academy you attend
Competition Prizes
1. One winner will receive a £200 voucher for the shop of their choice
2. Five runners-up will receive a pair of cinema vouchers
3. The winning film along with the runners-up will be invited to screen at the PQA Film Festival in October 2022
4. Along with a selection of highly commended films, the winning film and runners-up will be featured on the PQATV YouTube channel 
Take a look at these films on PQATV YouTube, made for our '10 Seconds of Summer' filmmaking competitions – it's a little easier this year, you have up to 30 seconds to tell your story for 'Summer Dreams'!
Here's a great tips video from one of our PQA Film & Television teachers:
More Camera tips on the PQATV Tutorials playlist:
If you need any help and support, email: filmandtv@pqacademy.com
---